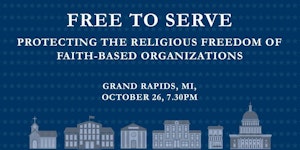 Join us Monday the 26th in Grand Rapids, for a special launch event for Free to Serve! The author and practitioner panel will continue a conversation launched by Free to Serve — on how faith-based organizations can meaningfully relate to one another, community leaders, government, and the media as we serve.

Jonathan Grant's Divine Sex was reviewed at AJ Cerda.
This is the best book on Biblical sexuality that I have ever read….Jonathan Grant has done the Christian community a gigantic favor by meticulously pealing apart the layers of the modern sexual imaginary to expose the pathologies which are at the heart of the secularization of sexuality. This will satisfy the intellectual curiosities of your inner philosopher; but Grant does not leave the reader with a philosophical assessment of the sexual imaginary, he offers a solidly Biblical and deeply profound vision for the future of sexuality. The church, for her part, would be wise to listen.

Quick Hits:
Medieval Wisdom for Modern Christians, by Chris Armstrong, appeared in the Publishers Weekly article Exploring C. S. Lewis's Lasting Popularity—52 Years After His Death.
Drew McIntyre, at Plowshares Into Swords, reviewed Darkness is My Only Companion, by Kathryn Greene-McCreight.